2011 Canstruction Structures and Award Winners
March 15th, 2011Events
Team: Accelerator Centre
Title of Build: Noah's Ark
Description: Just as Noah created the Ark to help his family weather the Great Storm, Food Banks across Canada help struggling families, feeding hope.
Team: ARIDO-Grand Valley Chapter
Title of Build: Catch me if you Can
Description: Spring is just around the corner, and a picnic lunch in the park seems like a great idea! These ants may be stealing lunch from our unsuspecting picnickers. But what if there was no picnic to steal? Imagine not having the basics. You CAN make this simple pleasure possible with your donation to The Food Bank.
Award Winner: Best Use of Labels
Team: Conestoga College – Architecture Construction Engineering Technology
Title of Build: Every Dime Counts
 
Description: The Canadian Bluenose was the fastest ship on the high seas for 45 years. When mighty Bluenose wasn't setting records and raising Canada's international reputation it was working as a fishing schooner to put food on the table for thousands of people. In keeping with the purpose and inspiration of the Bluenose, we are committed to make a difference through our support of The Food Bank. Please join us in supporting Canstruction 2011 and The Food Bank of Waterloo Region by generously donating today. EVERY DIME COUNTS!!
Award Winner: Honourable Mention
Team: McAfee
Title of Build: A Rainbow Day
Description: Imagine a rainbow day! A magnificent rainbow against a backdrop of a bright, sunny, clear blue sky. This is what a day without world hunger would be like for everyone to have the opportunity to eat nutritious foods from all 7 colours of the rainbow, ensuring that everyone gets the required daily nutrition and antioxidants to fight diseases. The rainbow is beautiful and multi-faceted, as those who are hungry CAN be.
Team: Medicalis
Title of Build:  Spiral of Hope
Description: Our "Spiral of Hope" illustrates that the need for food in our community is all around us and continues to grow. In an effort to provide a well-rounded solution, our structure includes complete meals in a can. We used approximately 3500 cans divided into two dominate colours, red and white. The colours highlight the inside and outside of our structure providing an interesting visual pattern from all sides and a patriotic flare.
Award Winner: Structural Ingenuity
Team: MTE
Title of Build: From the Farm to our Table
Description: With over 1,400 farms in the Waterloo Region, this area has strong roots in the agricultural industry. As a result, the people of this region epitomize the ideals of the farming community…a cooperative spirit committed to supporting our neighbours. This barn and silo structure represent our community and its dedication to helping one another through the theme: "From the farm to our table"… Feeding the hungry is everyone's responsibility.
Award Winner: Jurors Favourite
Team: Robertson Simmons architects inc.
Title of Build: Bridging the Gap
Description: Our bridge demonstrates the closing of the gap between an empty field to one that has a full crop of corn. The bridge represents those who are constantly fighting to help those who cannot provide for themselves by giving them a way to get over the obstacles and obtain what they need to survive.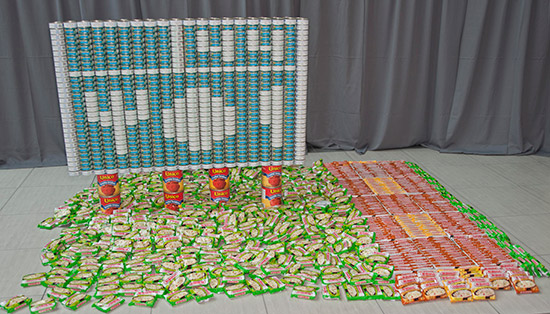 Team: RWDI
Title of Build: Food Ahead!
Description: When folks are hungry, the road in front of them can seem endless. But there is help up ahead. Sometimes we just need to be pointed in the right direction. Let's all let the sign guide us and take the next exit to help The Food Bank of Waterloo Region assist those that are in need of food!
Team: Stantec
Title of Build: Making Tracks to Eliminate Hunger
Description: Peep! Peep! All aboard! Now is the time everyone, even the smallest one, can make a difference to eliminate hunger. Just like Thomas and all his friends, we need to work together and move full steam ahead to eliminate hunger. Thomas represents the strength of the people in our community to be really useful and helpful to those in need. Together we CAN all be #1.
Award Winner: Best Meal
Team: St. George's of Forest Hill Youth Group
Title of Build: O Canada
Description of Build: In a country where wealth abounds, hunger is inexcusable. St. George's youth group had a vision of feeding 5,000 – and it is this Canadian flag, a symbol of prosperity, unity and inclusiveness, which marks our completion. We hope that our efforts to reach out to the less fortunate in our community inspire and motivate you, as Jesus' feeding of the 5,000.
Award Winner: People's Choice
Team: The Walter Fedy Partnership
Title of Build: Proud as Peacocks to Help Fight Hunger
Description: Not only is the peacock associated with pride, it's a symbol of integrity and the beauty we can achieve when we endeavour to show our true colours. TWFP is grateful for the opportunity to help The Food Bank of Waterloo Region and those in need throughout our community. We are truly proud as peacocks to be part of Canstruction and the fight against hunger!
Team: University of Waterloo Architecture
Title of Build: Making Hunger Extinct
Description: This friendly leaf-eating dinosaur was incorporated into our structure in order to bring a sense of joy and playfulness. Every day many people are faced with the struggle of hunger. The dinosaur signifies that struggle and represents the community-wide goal to make hunger extinct.
Team: University of Waterloo Engineering
Title of Build: Yellow Submarine
Description: Since the album Revolver, Yellow Submarine has been one of the most identifiable songs in pop culture. This build pays homage to the greatest band to ever take the stage, The Beatles. This iconic submarine reminds us of the band who once told us "All We Need Is Love", a message often forgotten in today's busy world.