2023 Great Food Sort Challenge
Skip to Event Details
Join us January 26 to 30 for the Great Food Sort Challenge!
3 DAYS. 30 TEAMS. 1 GOAL
Note: Registration for The Great Food Sort Challenge 2023 is now closed.
The Great Food Sort Challenge is an energetic corporate and community-based challenge where teams of 10 compete to see who can sort the most food, the fastest!
Teams compete in categories including:
Fastest food sorters
Most stylish food sorters
Most spirited food sorters
This awesome team-building event brings people together to help fight hunger in our community. And this year, we have a few new surprises up our sleeves.
To add even more excitement, we have the following rewards:
Most meals – the team that raises the most meals, which combines funds raised through their fundraising page and the number of pounds sorted, will be rewarded with a team lunch (for 10) from The Civil including pizza, salad and drinks, and a team experience for 10 to play an escape room at KW Escape!
Individual fundraiser – the individual who raises the most funds through their fundraising page will receive a staycation with an overnight stay at Hampton Inn & Suites by Hilton Waterloo St. Jacobs and an escape room for four people at KW Escape!
Do you have a rival business, group, or neighbour who might be up for a little friendly competition? Challenge them to a "Sort Fight!"
To date, the Great Food Sort Challenge has raised 415,782 meals for those in need of food assistance in our community.
The challenge is on. Do you have what it takes?
Note: All team participants must be 15 years of age or older to participate.
Ready? Set. Sort!
Challenge schedule – see who has signed up!
Thursday, January 26, 2023
11:30 a.m. – Paquette Travers versus Peak Realty
1 p.m. – Waterloo Regional Police Service versus Google
2:30 p.m. – Blendtek versus Blendtek
5 p.m. – Volkswagen Waterloo versus Parkway Ford
6:30 p.m. – Forbes Motors versus Kitchener Hyundai
Friday, January 27, 2023
10 a.m. – Accommod8u versus Accommod8u
11:30 a.m. – Movati Athletic versus RBC KWC Commercial
1 p.m. – Dillon Consulting Ltd versus Dillon Consulting Ltd
2:30 p.m. – Robert Half versus WalterFedy
4 p.m. – Conestoga Meats versus MTE Consultants Inc
Monday, January 30, 2023
11:30 a.m. – Waterloo Region Association of Realtors versus Bennett Capital
1 p.m. – Clean & Tidy Inc versus Kitchener Ford
2:30 p.m. – Policaro Group versus Steed and Evans Limited
5:00 p.m. – Team 7 versus Team 8
6:30 p.m. – Libro versus Team 10
Share your participation on social media!
We have created resources to help you spread the word about your participation. Sample social media posts have been provided below for you to post across your social networks. Sharing these posts is a great way to let your network know you're participating and encourage them to attend.
Example Post 1
Right click the image to save
Sample text: 
We've joined #GFSC2023 hosted by @FoodBankWatReg to see who can sort the most food, the fastest! Does your team have what it takes? Register your team at thefoodbank.ca/gfsc. #FeedWR
Example Post 2
Right click the image to save
Sample text: 
We're excited to participate in @FoodBankWatReg's Great Food Sort Challenge, a team building event that raises awareness and funds to help #FeedWR. Register and join us at thefoodbank.ca/gfsc. #GFSC2023
Example Post 3
Right click the image to save
Sample text: 
We've joined the @FoodBankWatReg's Great Food Sort Challenge, have you? Join the challenge at thefoodbank.ca/gfsc and see if you have what it takes to sort the most food, the fastest. #GFSC2023 #FeedWR
Example Post 4
Right click the image to save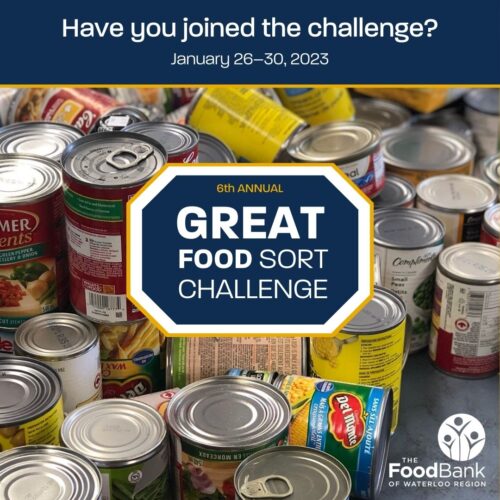 Sample text: 
If you think your team has what it takes to sort the most food, the fastest, join @FoodBankWatReg's #GFSC2023! Register at thefoodbank.ca/gfsc. #FeedWR
Example Post 5
Right click the image to save
Sample text: 
It's almost time for @FoodBankWatReg's #GFSC2023. Does your team have what it takes? Register at thefoodbank.ca/gfsc to join us and raise awareness about food insecurity. #FeedWR
Example Post 6
Right click the image to save
Sample text: 
We challenge YOU, @BusinessName! Do you think you can sort food faster than us? Join @FoodBankWatReg's Great Food Sort Challenge at thefoodbank.ca/gfsc and we will see. #GFSC2023 #FeedWR